It's Halloween time, everybody.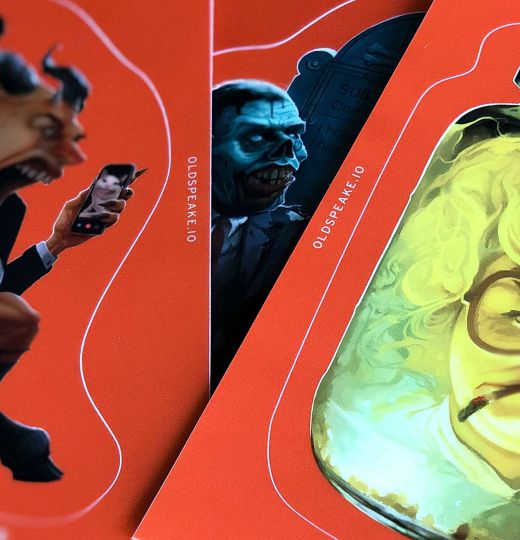 What's more scary? Candy-coated Ex-Lax? Razor blades in Reese's Cups? Tylenol in Smarties? Your neighbor Phil (who is too cheap to pass out candy and acts like he's not home even though he just turned off his porch light after Brett from Papa John's left, and through the front window you can see his flickering silhouette illuminated by Baywatch reruns on his TV)?
What about bad clients?
Some people say there is nothing scarier. Not our clients, mind you. We don't have bad clients. From what I can tell, none of our industry friends have them either. But, like Bigfoot, we have heard stories.
This year at Oldspeake we wanted to celebrate Halloween by creating some stickers and treating our friends across the country. The following are some lovingly illustrated, well-known figures from these classic (and alleged) cautionary tales we call "Clients from Hell" Volume 1.
Boil Over Doyle
Doyle is seen here amid an exciting, early morning huddle. Doyle is a bonafide multitasker, and has no problem dressing for the office while also sharing his feelings about the recent design iterations and his ROI.
Scope Creep Scully

Scully is an agile collaborator. Known for his "thought showers," he always has another hot take on revisions, and isn't afraid to pivot concepts completely on the job that was delivered last quarter.
Same Old Susan

As an innovator and a change agent, Susan is always looking to future-proof her product (and herself).
We had so much fun creating these stickers, we plan on making a Volume 2 next year. If we missed you this time, let us know and we'll be happy to send these your way. If you stick these somewhere cool, send us a pic!
Happy Halloween (and don't be your neighbor Phil, hand out some candy)!